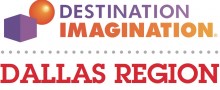 REGISTRATION IS NOW CLOSED FOR THE 2018 DALLAS REGIONAL TOURNAMENT BEING HELD FEB. 17, 2018, at Skyline High School.
Following information applies to Team Managers only:
Don't forget that you must have a team membership number in order to participate in the tournament.
Non DISD teams — you will need to purchase your team number and materials at destinationimagination.org
VERY DETAILED AND HELPFUL INSTRUCTIONS FOR PURCHASING TEAM NUMBERS IS HERE: Purchasing DI team numbers 2017-18
MEMBER NUMBER PRICING FOR TEXAS TEAMS IS $65 PER RISING STARS TEAM AND $95 PER COMPETITIVE TEAM – PLEASE NOTE: THE destinationimagination.org WEBSITE MAY NOT SHOW THIS PRICING UNTIL YOU REACH CHECK-OUT AND THE SYSTEM IDENTIFIES YOU AS A TEXAS TEAM.
THE TOURNAMENT REGISTRATION FEE IS IN ADDITION TO YOUR TEAM/MEMBERSHIP FEE, WHICH COVERED YOUR TEAM NUMBER AND MATERIALS. (These fees are paid by the DISD for DISD teams ONLY.) DISD Team Managers, please contact Angie Nuno in Student Activities for help at annuno@dallasisd.org
Regional Tournament Registration Fee:
The Dallas Region tournament fee is $100 per team. This is LESS THAN LAST YEAR!! YAY!
$100 for EACH TEAM REGISTRATION
REGISTRATION DEADLINE is November 10. THERE WILL BE PENALTIES FOR LATE REGISTRATION starting November 11. From November 11-November 30, Tournament Registration Fee is $150. FINAL deadline is November 30.
Team/Tournament registration for ALL DALLAS REGION TEAMS takes place on the Texas DI Website: http://www.texasdi.org
Non-DISD teams with questions about membership/team numbers, please contact Dallas Regional Director Jon Mark Howeth or Sherri Cook, at doingdidallas@gmail.com
VERY IMPORTANT: In order to participate in the Dallas Regional Tournament, Team Managers are responsible for recruiting TWO Appraisers and ONE Tournament Helper per team, for the Tournament. Failure to provide these volunteers will result in penalties!!! DISD employees who are Team Managers, please refer to your Team Manager stipend agreement for details.
New AND returning Team Managers
Go to http://www.texasdi.org
New Team Managers: For step-by-step instructions, click the new-di-tm-red-2 link above. When you reach the Texas DI home page, click the link for "Team Managers". This will direct you to more specific instructions on setting up a team.
BE SURE TO SELECT THE DALLAS REGION!
Returning Team Managers may simply login with last year's login information and follow the instructions, though reviewing the Texas DI registration steps is helpful. Step-by-step instructions are above also at returning-rm-reg-2.
PLEASE FOLLOW THE TEAM SETUP INSTRUCTIONS FOR DALLAS REGION.
Before starting the registration process, you need to have selected a challenge, and you should know your competition level. Please be sure that your selected challenge for the tournament MATCHES the challenge you selected on the destinationimagination.org website!!!!
HELPFUL TIP: Gather the birthdays of all team members before starting this process, and you can sail right through!
ATTENTION APPRAISERS: Please read carefully and refer to the instructions for registration below! Please read ALL THE WAY THROUGH THE END OF PART 2. And thanks for doing DI!!
Team Managers: You MUST notify your Appraisers and have them go online to register to represent your team as soon as possible. This automatically registers them for training. They will receive an email with training details as given here, but only if they are registered by January 15th. Regardless,
Appraiser Training will be held Thursday evening, January 25th at Skyline HS, starting in the cafeteria. Please plan to arrive at 5:00 p.m. to get checked in and have a light dinner (provided) before going into specific challenge training from 5:30 to 8:30. All Appraisers MUST be registered online prior to training. Every team must supply two Appraisers to work all day at the tournament Feb. 17th.
PLEASE SEE BELOW FOR APPRAISER REGISTRATION INSTRUCTIONS
Thank you!!
Questions? Contact Dallas DI at doingdidallas@gmail.com,
or the DISD Student Activities Office at annuno@dallasisd.org.
Part 1 – Set Up Your Account
1) Visit register.texasdi.org. (Returning appraisers can login with existing account information and skip to PART 2). 2) NEW APPRAISERS: Choose "Create new account". 3) Enter your account information – the Email Address entered will be used to validate your account. 4) Check the Appraiser box. 5) For Region, select Dallas. 6) Fill in your Name and Phone Number. a. Click the box if you would like to receive text message reminders and enter the appropriate cell phone number. 7) Select your T-Shirt Size. 8) Indicate if you are a vegetarian. 9) Under Experience, please list preferences for (or experience you've had with) particular Challenges. 10) Read the Code of Conduct. 11) Accept the terms & conditions and complete CAPTCHA. 12) Click "Create new account." 13) To validate your account, check your email and click on the link, then click "Finish Registering For The Dallas Regional Tournament" and complete Part 2 >>>>>
Part 2 – Register for the Tournament
1) Fill in all sections with an asterisk ( * ). 2) Select the Team you are representing (listed by District – School – Team Manager Name – Challenge – Level). 3) Select your preference for Instant or Team Challenge. 4) Select your Team Challenge Preference (even if you selected Instant Challenge on the previous question). 5) Choose "Click to pick Challenge(s) where family members are competing" and check the applicable challenges (NOTE: These are challenges you will not be able to appraise). 6) Read "Click here to see a description of appraisal positions". 7) Indicate the Appraisal Positions you would prefer to be assigned and/or not assigned. 8) In "Other Notes" indicate any special considerations such as language or health barriers. 9) Click "Save". 10) Team Managers will receive an email notifying them that you registered as an appraiser.
Over 300 teams will compete in our 2018 Dallas Regional Tournament at Skyline High School. If you are a DISD Team Manager, please contact Angie Nuno, DISD DI coordinator, at annuno@dallasisd.org for more information about the coming season. Non-DISD teams, such as private school teams, please contact Dallas Regional Director Sherri Cook or at doingdidallas@gmail.com with questions about the tournament.
THANKS FOR PARTICIPATING IN DESTINATION IMAGINATION!